---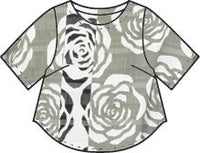 Featuring a boxy silhouette, rounded hem and chest darts for just the right amount of shape, this top will have you looking chic and trendy. Perfect for elevating your everyday look! Pairs beautifully with our 'Moss' color Rayon.

Style Number: 1245120
Delivery: 3/30X
Fabric: Crinkle
Content: 74% Polyester, 25% Viscose, 1% Elastane
Care: Machine wash cold, gentle. Line dry. Cool iron as needed.